A more minimal way of showcasing team members and their occupation, with images portraying their professional personality. This is where you can add links to the member's social media as well. This is good for engaging with clients as they review and get to know the company and the team members.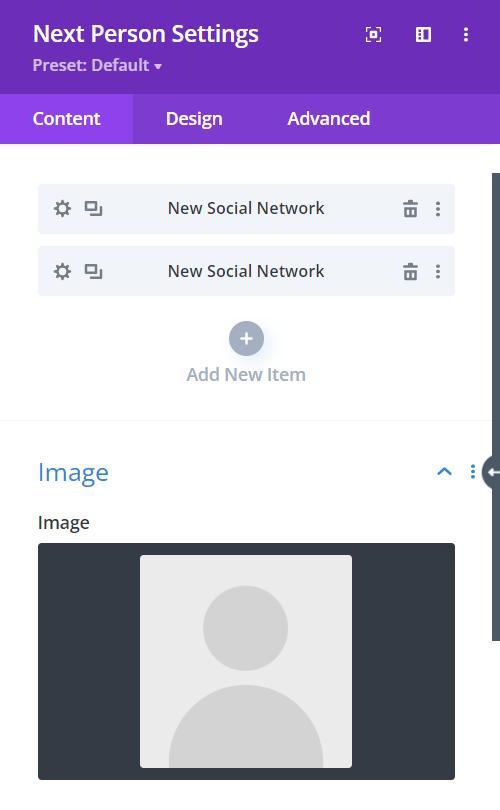 Content → New Item → Image
Within the Content Tab, you have the option to add New Items and include the Next Person image as shown above.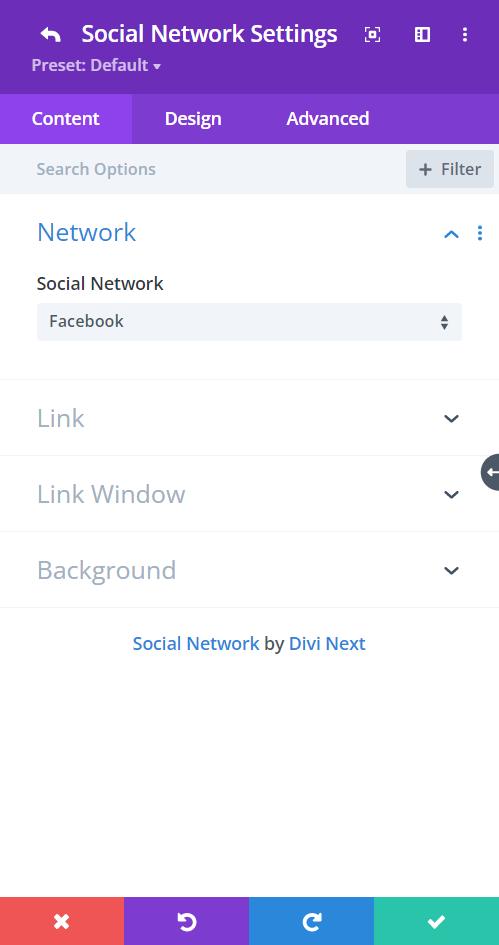 Content → New Item
Within the New Item, you can link social media links to the person in concern.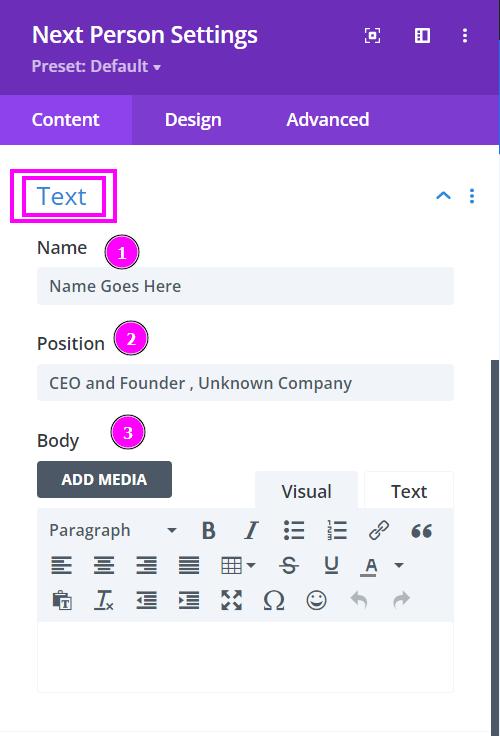 Content → Text 
Let's move on to the Text field and its features:
Name – place the name of the person
Position – include the company position of the person
Body – include description text related to the person in concern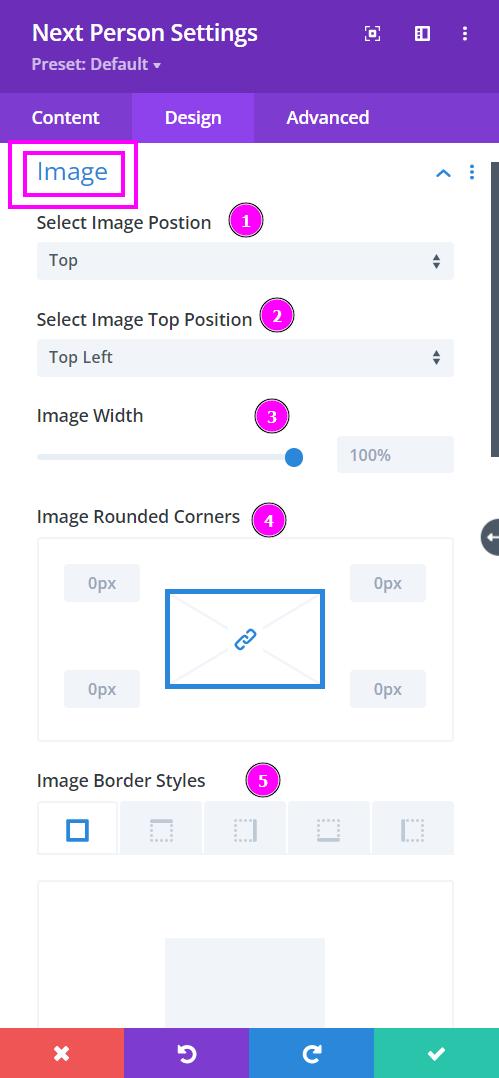 Design → Image 
Select Image Position – select between the top and left position
Select Image Top/Left Position – based on your selected Image Position, pick between left, center, and right
Image Width – adjust the width of the image using the slider
Image Round Corners – alter the rounded corners for all four sides
Image Border Styles – include border to the image either on all four sides or wherever you prefer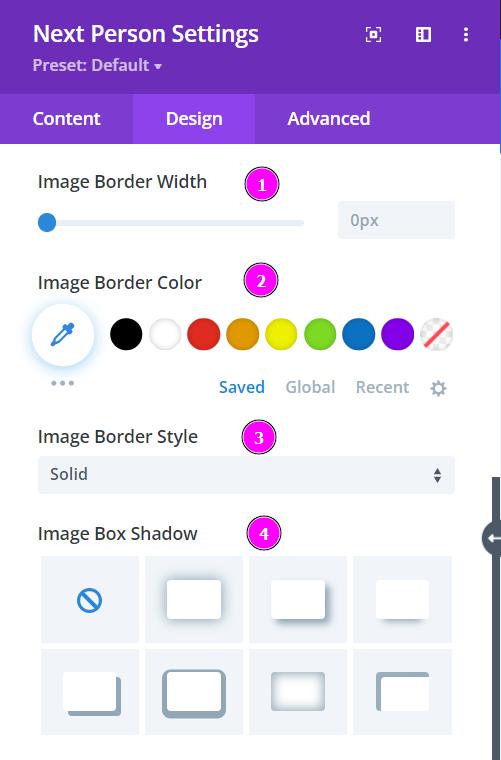 Design → Image (continuation)
Image Border Width – adjust the width of the border added to the image
Image Border Color – pick a color for the border using the pointer or you can copy/paste the hex code to get the exact color required for the border
Image Border Style – select a premade style of border 
Image Box Shadow – include a box shadow for the image from the options below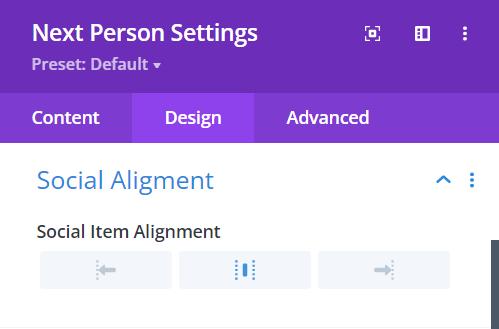 Design → Social Alignment
Social Item Alignment – you can position the social network items either to the left, center, or right.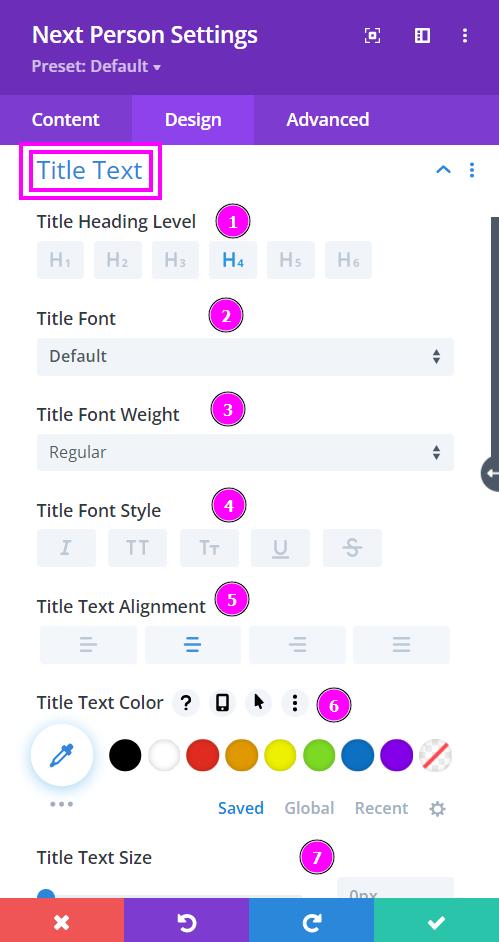 Design → Title Text 
Title Heading Level – Pick a level  
Font – Select a font from the collection or use a custom font
Font Weight – this is where you define how you want your font to show either regular, italic, bold extra, or even extra light.
Font Style – Pick a style of font for both front and back
Text Alignment – align the text for both the front and back text
Text Color – manually select a color for the background of the text using the pointer or you can simply state the hex code and get the exact color you require.
Text Size – easily resize the text for both the front and back parts of the flip box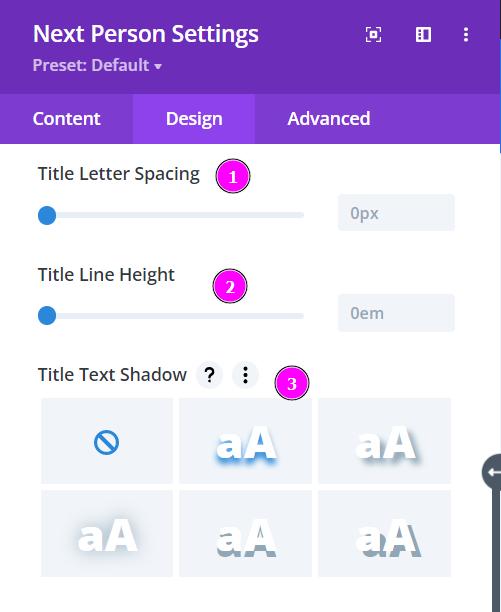 Design → Title Text (continuation)
Letter Spacing – space out the letters using the slider for an easier read for the website visitors
Line Height – easily include gaps between the lines using the slider
Text Shadow – add text shadow to have the texts highlighted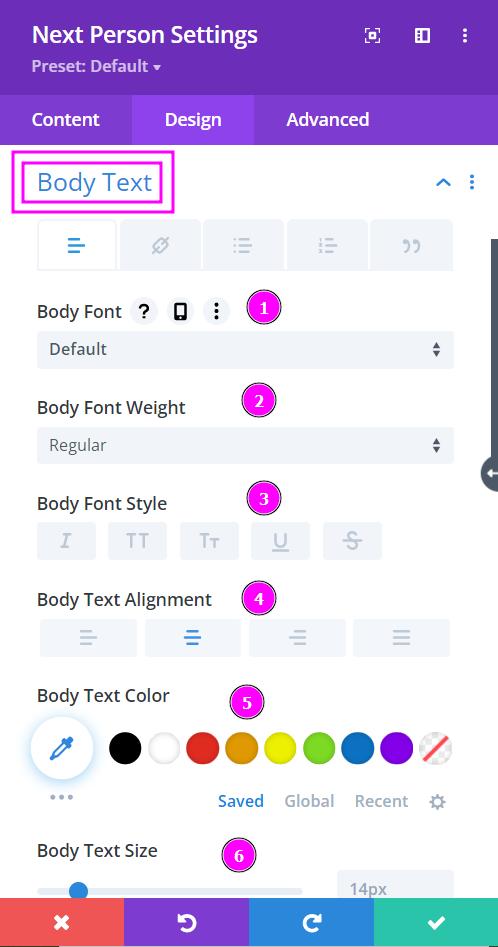 Design → Body Text 
Font – Select a font from the collection or use a custom font
Font Weight – this is where you define how you want your font to show either regular, italic, bold extra, or even extra light
Font Style – Pick a style of font for both front and back
Text Alignment – align the text for both the front and back text
Text Color – manually select a color for the background of the text using the pointer or you can simply state the hex code and get the exact color you require.
Text Size – easily resize the text for both the front and back parts of the flip box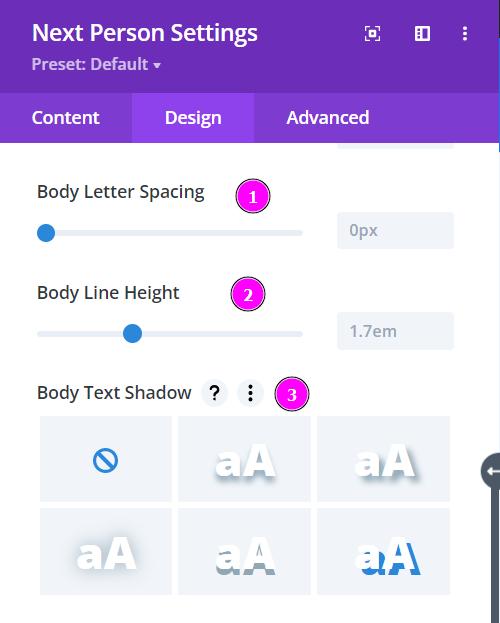 Design → Body Text (continuation)
Letter Spacing – space out the letters using the slider for an easier read for the website visitors
Line Height – easily include gaps between the lines using the slider
Text Shadow – add text shadow to have the texts highlighted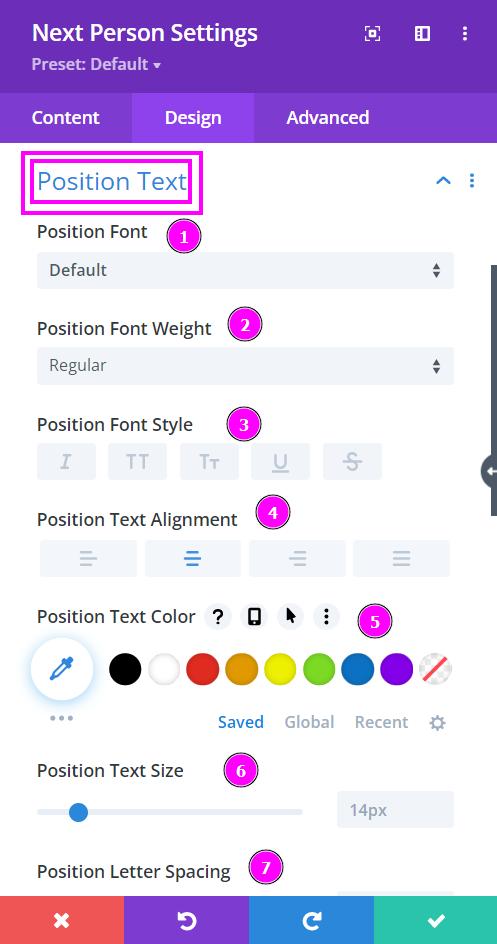 Design → Position Text 
Font – Select a font from the collection or use a custom font
Font Weight – this is where you define how you want your font to show either regular, italic, bold extra, or even extra light
Font Style – Pick a style of font for both front and back
Text Alignment – align the text for both the front and back text
Text Color – manually select a color for the background of the text using the pointer or you can simply state the hex code and get the exact color you require.
Text Size – easily resize the text for both the front and back parts of the flip box
Letter Spacing – space out the letters using the slider for an easier read for the website visitors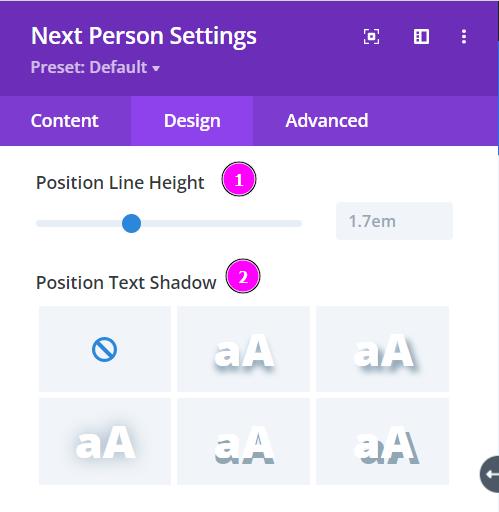 Design → Position Text (continuation)
Line Height – easily include gaps between the lines using the slider
Text Shadow – add text shadow to have the texts highlighted